In June 2020, Lexy Benedict stood outside of Toronto's Sunnybrook Hospital with her partner's family. They couldn't go inside because of COVID-19 regulations, but tears rolled down her face as they awaited news on her boyfriend's emergency surgery. Earlier that day, her partner had an aneurysm, fainted and was rushed to the hospital. His mother was the first to hear about the brain tumour.

Benedict replays this day in her mind like a slow-motion movie.

"All I can remember is my heart just beating so loudly I couldn't hear anything, like to the point where I couldn't even see anything," she says. Just the night before, the two of them were at a friend's birthday gathering, having socially-distanced drinks in the backyard. "Everything was so good."

Benedict and her partner, Tyler Swirla, have been together for eight years. The 23-year-old Ryerson journalism graduate met Swirla in elementary school and they're best friends to this day.

Benedict used to rely on Swirla for most things: car troubles, cooking, hashing out big life decisions. But when her partner was diagnosed with glioblastoma, an aggressive brain cancer with an average life expectancy of 12 to 18 months, Benedict had to find ways to fend for herself and learn how to be alone.

"When it comes to Tyler, I'm so dependent on him, and I didn't realize how dependent I was until I was so close to losing him."

After the surgery, Benedict had difficulty being alone with her thoughts. She'd avoid her apartment and constantly be on the move between work and her parents' house. She says she felt anxious, exhausted and remembers being physically sick from stress.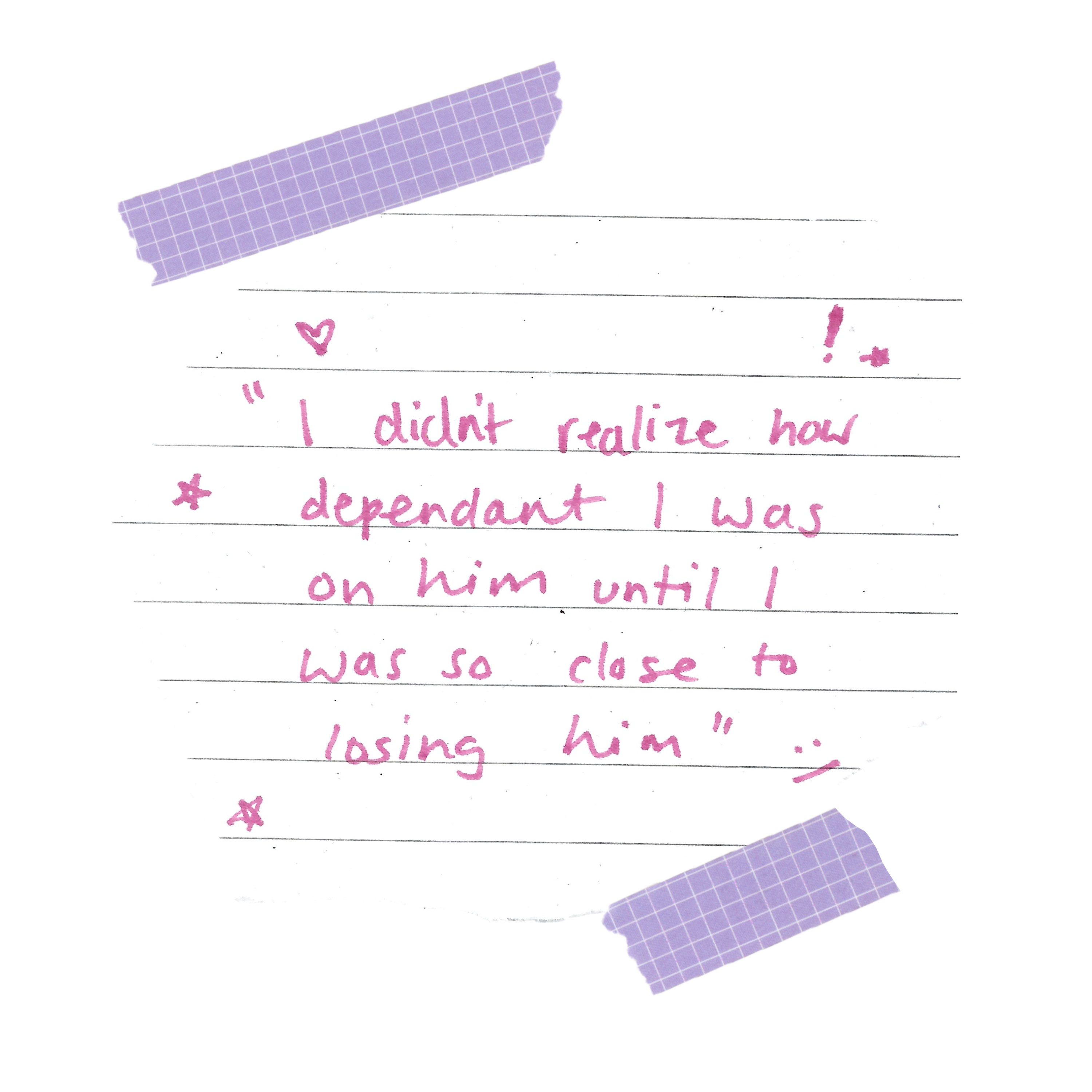 Codependency is the excessive emotional or psychological reliance on a partner, typically one who requires support on account of illness or addiction.

Though it's natural for all couples to depend on each other to some degree, for those in long-term or back-to-back relationships, codependency can manifest itself as a loss of individual identity.

Carling Mashinter, a Cambridge-based psychotherapist and relationship therapist, says it's important to take space away from our partnerships.

"Alone time is imperative for a healthy, interdependent relationship, because if someone isn't okay with alone time, then they're going to be depending on other people to stop them from being alone."

Interdependency, as opposed to codependency, is what she tries to achieve with each of her clients, Mashinter adds. This is achieved when two people have a sturdy sense of themselves and are evolving as individuals. An interdependent couple is just as good together as they are alone.

One 2009 study published by the journal Self and Identity found that people with a clear sense of personal identity have better quality romantic relationships. But when all you've ever known is being partnered, it can be difficult to differentiate where your own personality and aspirations begin, separate from those of your significant other. For some Ryerson students, this can hinder personal growth or result in loss of identity.



Maxine Pichler remembers sitting in her bathroom, unable to move by what she'd found. Downstairs, her mom and her boyfriend were having dinner. After she collected herself, she went downstairs and asked her boyfriend if he'd like to go for a walk. This is when she confronted him about the pornographic videos on his phone of him with other women.

Pichler, a professional communications graduate, used to think of her now ex-boyfriend as her second half. He was charismatic and she was thrilled when her family and friends approved of their relationship.

It was for those reasons she ignored all of the red flags, even when she felt herself changing for him.

When they had sex, she was in love and felt ready. But before that point, he would pressure her despite her fear of having sex for the first time with the wrong person.

Later, she received a message from another woman informing Pichler that her boyfriend was hitting on the woman.

"I thought I was the problem. I felt like I wasn't good enough to be with him."

According to a 2016 HuffPost blog, some signs of someone losing their identity within their relationship include: feeling a loss of purpose, no longer doing things that brought them joy, using the "we" pronoun more than "I" and a loss of self-confidence.

"I lost a part of myself," says Pichler, adding that her identity has completely changed since they broke up in 2019. "I lost my trust in people. I became someone I never wanted to become—overprotective and a jealous girlfriend."

The relationship was Pichler's first serious, long-term one. Even though she could feel them drifting apart, she felt like she needed to see the proof in order to end things. She says she liked the idea of him more than the connection itself.

Mashinter says maintaining long-term relationships just because of the "high-school sweetheart fairy tale," can lead to people being disingenuous and putting their needs aside "so that it keeps up with the story."

She adds that 52 per cent of people get divorced, which is an important statistic to recognize when people cling to "together forever" or "you complete me" narratives.

When people meet each other when they're young, it's inevitable that they're going to change, she continues, and it's important not to cling to young love if you've outgrown one another.

Not only was Pichler's identity skewed throughout her relationship, but she says her partner became unrecognizable. She says he manipulated her and lied to her and her family about his identity. When their two-year relationship came to an end, she felt as if she dated a stranger.

"From the moment I met him, it was all based on lies," she says.

The bond Pichler and her partner built together—as well as her family's approval—kept her from ending the relationship earlier on, she says. "I think I was digging myself a grave if I'm being honest."

She adds that she was hesitant to tell her friends about the breakup because saying it out loud would have solidified her new reality.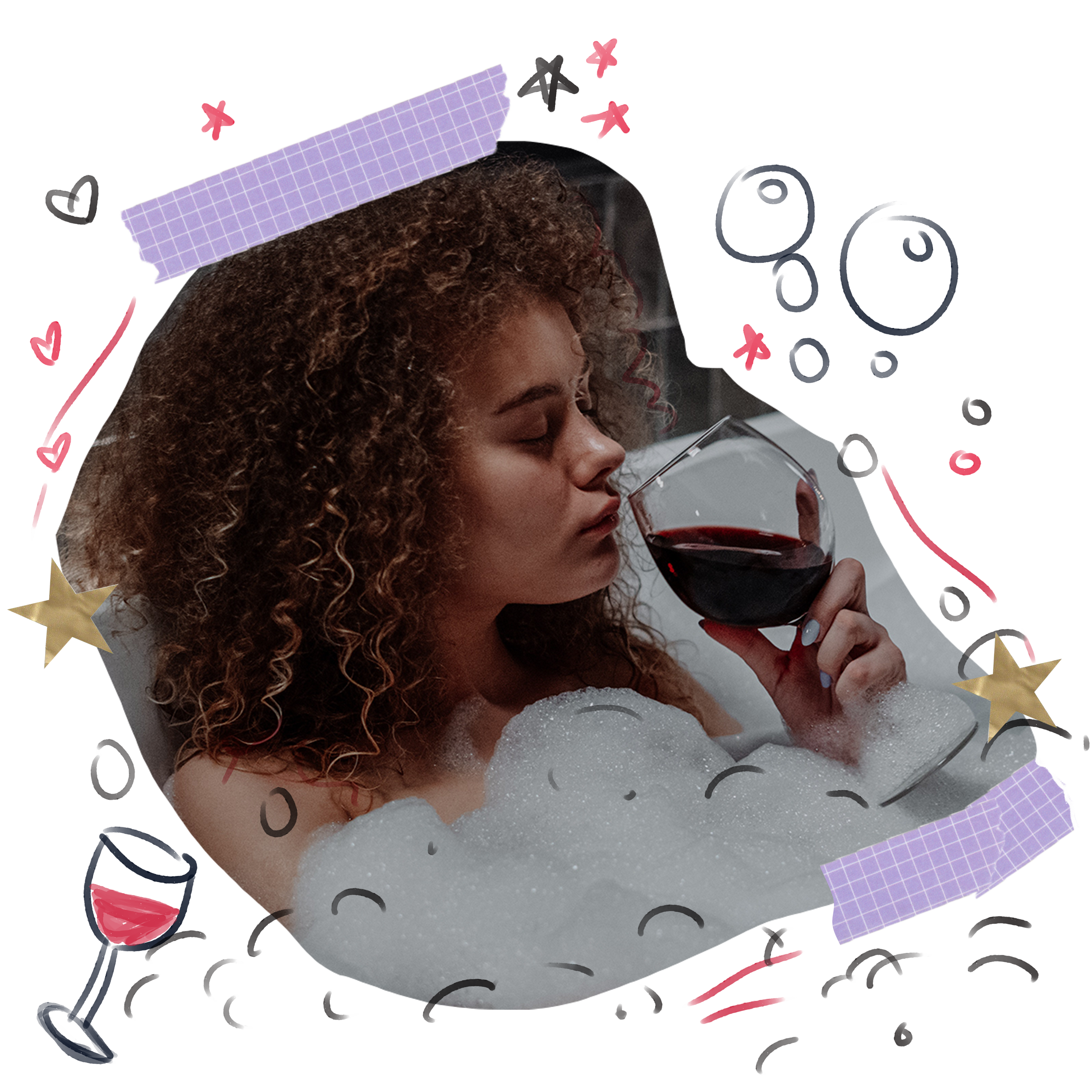 "I never once complained about my relationship. I kept everything private because I was scared people would tell me to break up with him," she says.

Pichler remembers telling everyone she was fine long after her relationship ended. It wasn't until she took a solo trip to Croatia two months later, physically removing herself from the situation, that she realized she wasn't.

A 2015 study done by Social Psychological and Personality Science found that repeatedly reflecting on a breakup can help speed up the emotional recovery process. Pichler says she's still healing from the relationship, trying to find a way to go back to the trusting girl she used to be.

"I thought I would feel so lonely if we broke up, but I was too afraid to admit to myself that I felt lonely for a very long time."

Mashinter says people can be lonely within their relationships if they feel like they can't be themselves, or have a hard time communicating their feelings.

"When you're with a person who you think you should feel super connected with, and yet you're not [able] to be vulnerable with that person...the effect of that is loneliness."

Even in marriage, many couples can find themselves feeling lonely. A survey taken in April 2020 by The Knot, found that even though a quarter of married couples were spending more than 35 hours together per week, only 29 per cent reported satisfaction with the amount of quality time they had with their partner. Only 18 per cent of the surveyed couples were satisfied with how they communicated with each other.

Mashinter says people need more education when it comes to learning about healthy relationships and what they should look like. She adds that a healthy relationship allows for self-exploration.

"[For] someone who's in a toxic relationship, it might not actually be emotionally and physically safe to do exploration," she says.

Having the means to explore your own interests within a relationship can help people form their identity. Things that inhibit that can include physical, emotional and financial abuse (someone else controlling shared finances).

The Ontario government's 2019 sexual health curriculum is supposed to introduce the concept of healthy relationships and consent at Grade 3. Many adolescents are still left in the dark, however, seeking sexual education through the internet and porn; which can lead people astray and create unrealistic expectations.

Mashinter says her sexual education focused mostly on abstinence and the scientific terms for reproductive organs. Sadly, many others can resonate with this experience and don't feel equipped to set healthy boundaries within their relationships.

The Eye previouly reported on Premier Doug Ford's sex-ed curriculum rollback in 2018 which reinstated the 1998 version. This gap left students in the dark when learning about important sexual health topics such as sexuality, gender-identity and consent.



Glizerina Coronado, a fourth-year environmental and urban sustainability student, says the only person she could learn about romance from was her older sister, who married her high school sweetheart. Coronado, the youngest of four kids, looked to her parents and siblings—all in long-term monogamous relationships—and assumed she would follow in their path as a "one and done" kind of girl.

When it came to her own love life, Coronado was with her ex-boyfriend for four and a half years. The two of them met at a Christian youth group and began dating in 2015. Though Coronado's partner was three years older than her, she never found it to be an issue. However, as she began her third year of university and focused more on school, he was focused on work and finishing a summer internship.

During their last year together, school, work, personal growth and commitments had made them drift apart.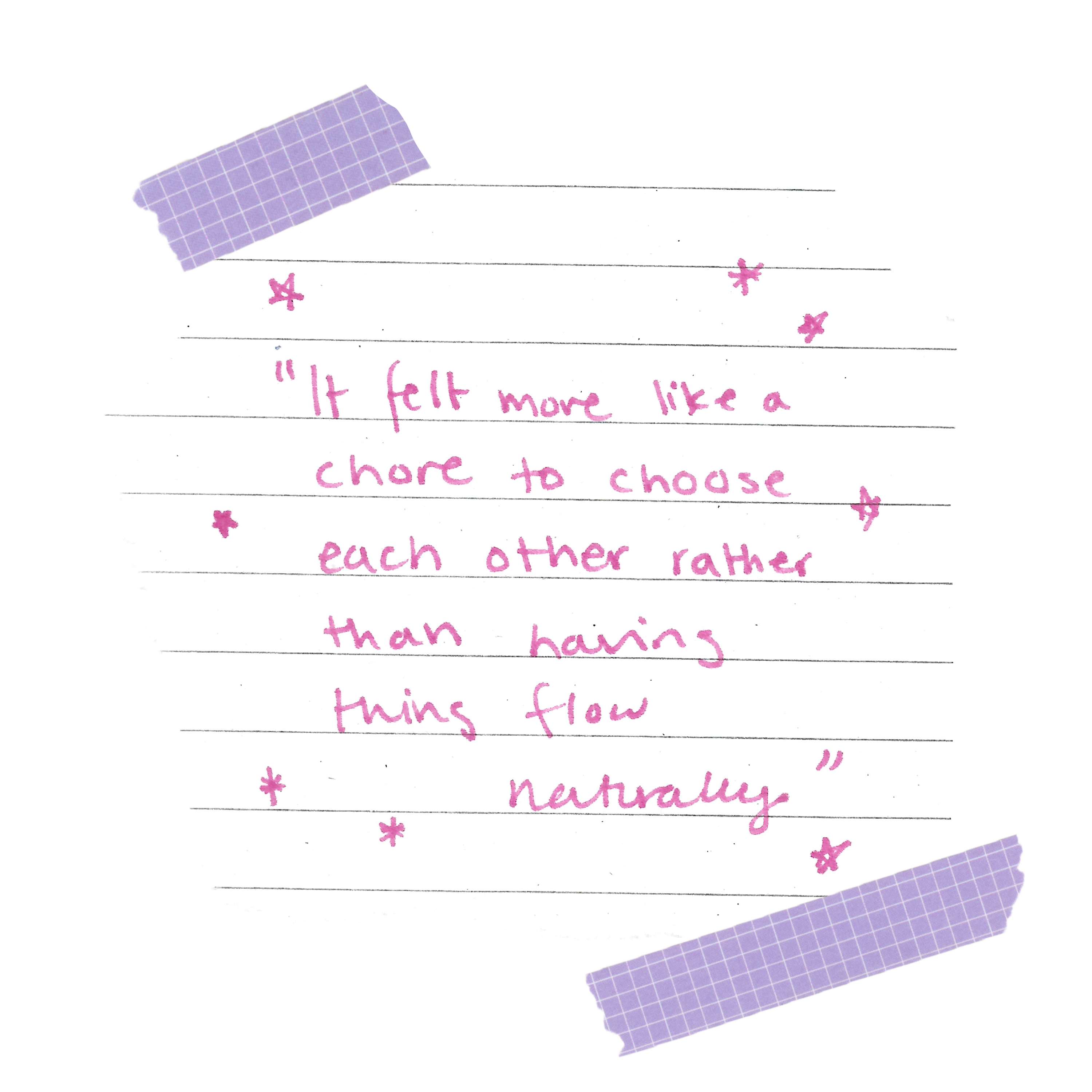 "My view on a relationship is that you meet your person…and you can grow from anything and everything as long as you keep choosing each other," she says. She adds that, to a fault, she and her ex were constantly choosing each other in their last year together because of the history they shared over the years.

Mashinter says that prioritizing each other in this way over all else can become a big issue later in life. "Our frontal lobe, which is the part of our brain that's responsible for really assessing consequences and personality development, does not get fully developed until we're 25 years old."

Coronado says she sometimes wondered if she was missing out on experiences or friendships because of her relationship. "It felt more like a chore to choose each other rather than having things flow naturally."

A 2017 study done by small business and marketing advice blog Brandon Gaille, found that high school sweethearts who get married before they're 25 years old only have a 54 per cent chance of having their marriage last for a decade. For those who waited until they were at least 25, there was a 78 per cent chance of it lasting the same amount of time.

When Coronado and her boyfriend broke up in November 2019, she says it was the first time she had been out of a relationship since she was 15. "I didn't have a responsibility to anyone and I could just be as selfish as I wanted," she says. "I didn't have anyone else to worry about. It felt empowering."

She adds that if she could give her younger self advice, it would be to never let anyone make her feel small. "It took me years to learn that," Coronado says.

About four months after Swirla's surgery, Benedict remembers sitting down on her couch, writing in her journal and finally allowing herself to feel the impact of her situation. She says that before Swirla was diagnosed, they were having serious conversations about getting a house and a dog.

"I just let it all hit me," she says, "which was hard to do."

Thankfully, doctors were able to remove about 98 per cent of Swirla's brain tumour, but recovery has been a long and unrelenting process. He used to be the one to remind Benedict to take care of herself, since she was always a go-go-go-type of girl. Now, she's found a way to do so on her own even if it's under extraneous circumstances.

While Swirla takes everything one day at a time, Benedict says the best way to take care of him is to focus on herself. That way, she says, he won't stress about how she's doing on her own. Just the other day, Swirla, a hockey player, was back on the ice for the first time since his surgery.

Now, Benedict looks forward to spending time with herself, pouring herself a glass of moscato, having a bubble bath and playing Chris Stapleton's "Tennessee Whisky"—her and Swirla's "song."

"You've got to love yourself before you can be a good partner," she says.