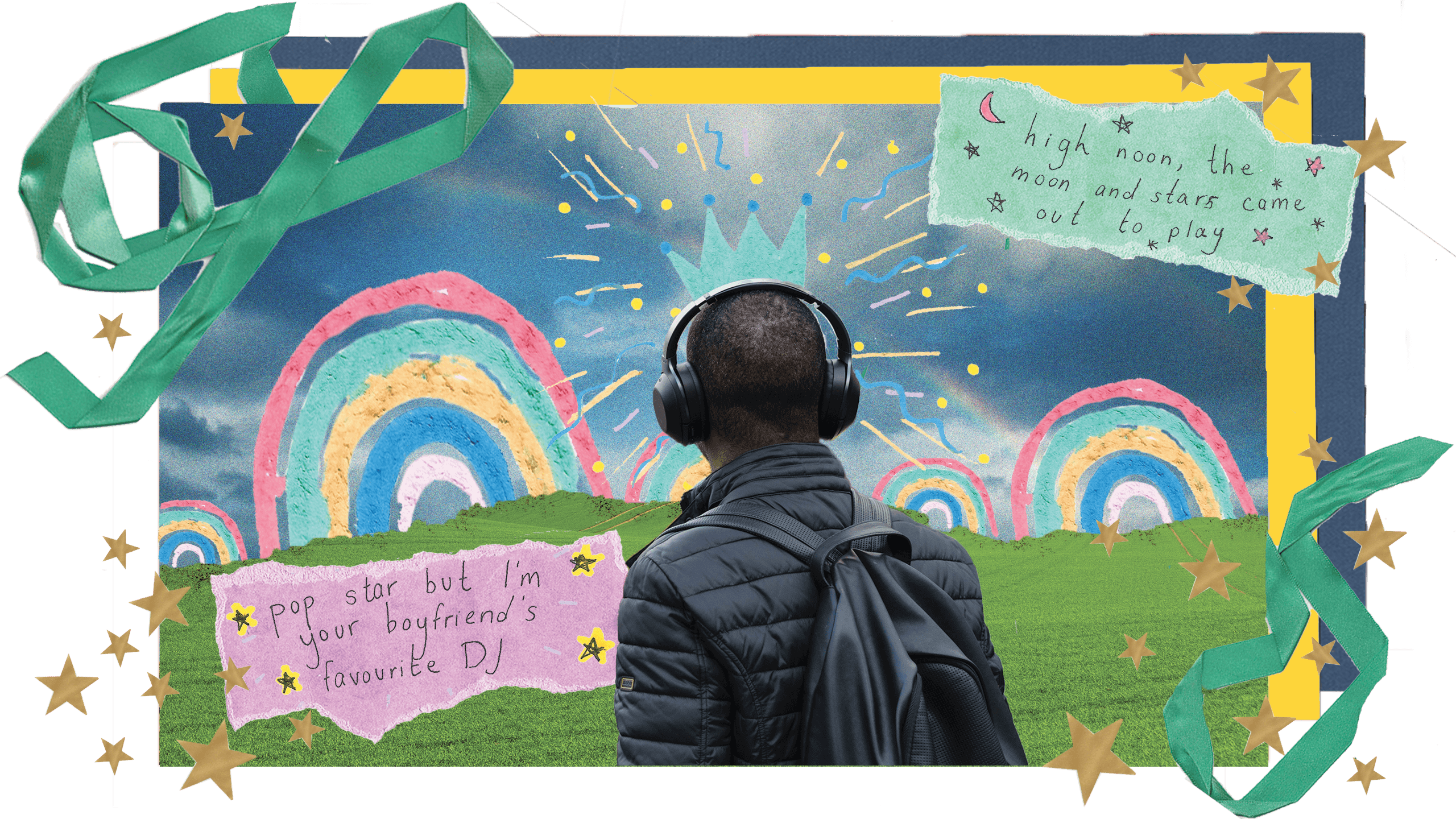 Nine tracks for your main character moment
​
Finally, a soundtrack for your socially-distanced but dramatic and mysterious walk through the neighbourhood
​
The world is exploding and most of us are trapped inside, so it's okay to be a bit self-indulgent and focus on yourself! Take some time to realize who you are—you stand out in a crowd, everyone knows your name, people want to be you! You're the main character, and we have a playlist just for you. This medley of songs, ranging from rap to hyperpop to U.K. garage, will pair perfectly with any self-realization montage.

DISCLAIMER: We're not responsible for any random hair colour, character design or personality trait changes that might result from listening to this playlist.

Here's a link to the whole playlist on Spotify.

"Zoom" by Fat Larry's Band

You walk up to the window and open the blinds to see a wonderful sunrise, you're the main character, baby! Your day has just begun! "Zoom" is a sparkly song that never fails to pick me up when I'm down. This song is full of bright charm and happy lyrics that are delivered so genuinely. It's your day, take control!

"For once in my lifetime, I was finally free And you gave that to me"

"Get Your Wish" by Porter Robinson

I can't think of a more "main character" song than this one. Porter Robinson popped off with this smooth beat, and the soft, almost whispering vocals over top make it feel all too personal. This track is exciting and moody, and excels at putting you in the centre of your own little universe.

"So, tell me how it felt when you walked on water Did you get your wish?"

"Flowers (Sunship Edit)" by Sweet Female Attitude

This was my most played song in 2020 for a reason. Sweet Female Attitude developed this song in a lab for the sole reason of making a club hitter. The groovy two-step of U.K. garage makes it the go-to genre for any main character. It also works superbly as the soundtrack for quirky impromptu dance scenes. "Flowers" is all about doing the most for someone else, no matter the cost, so take that passion into your real life. Give someone a call, get them a gift, be a nice protagonist—they're the best!

"I'll bring you flowers, in the pouring rain"

"Pop Star" by Coco & Clair Clair

Glamour, paparazzi, rivalries…this tune is all about the cutthroat lifestyle of a young, hot pop star. God, what a great song. 2000s pop meets bedroom pop in the best way. I love how sweet the vocals sound while Coco & Clair Clair spit some hyper-boasting bars about getting paid to party.

"I'm a real pop girlie no room for fuckin' posers Black out one night next morning not hungover"

"Wanted" by Namasenda

There's no way to listen to this track without pumping a fist and attempting to shuffle while singing along. "Wanted" sounds like if you were hyperspeed skating through clouds without a care in the world, and that's what makes this a protagonist anthem. Namasenda's nonchalant flexes and Himera's surgical yet boisterous production pair together perfectly and make this incredible track stand out.

"Go and tell the world baby make my name trend (Yeah) Let's be honest, it's written in the stars, so I fly like a comet"

"Special" by 8485 + Alice Gas

Oh my gosh…pop music rocks. This song has an unmatchable bravado that is honestly inspiring. Why be humble when you're cool as hell!!!

"Hyperactive non-stop I just wanna win forever I don't think it's so wrong Thinkin' there's nobody better"

"FlatBed Freestyle" by Playboi Carti

Playboi Carti went out of his comfort zone with "Flatbed Freestyle," the nostalgic hype retrospective that keeps you grooving. It's a great, weirdly relaxing track about looking back on your accomplishments and recognizing how far you've come. Sometimes it can be hard to take a break and be proud of yourself, but this song is a reminder that it's vital to make time for that.

"I got cash all everywhere (Hold up, your bitch, beep) I'ma do this by myself, uh, yeah (I'ma do this by, ooh)"

"Number 9" by Bootychaaain + Sickboyrari

Bootychaaain and Sickboyrari have a synergy that feels casual and refined when they rap on this one. They hop on the track and immediately start hyping up their friends and themselves; it's a great time of collective exhilaration. My favourite main characters stand up for what they believe in, and the unfiltered confidence that this track provides will make sure you do too! It's also so funny to me that they somehow managed to squeeze a Final Fantasy VII reference into this without making it cheesy.

"Gang taking off like a parachute"

"Everywhereigo" by BABYXSOSA

This is a track about a come-up and the struggles of fame and infamy. There's such a strong melodic flow that stays alive on top of this springy beat; it's mesmerizing. BABYXSOSA is so talented at introspection, and she doesn't shy away from talking about the unattractive effects of attention.

"Everywhere I go, they all know my name"
chevron_leftReturn to homepage